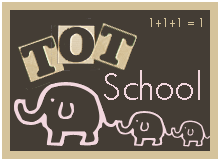 16 months and 38 months
Another busy week in Tot School! We started
Tot Trays
this week! I was so excited. Here are the trays i laid out:
The first time Connor picked this one:
Spooning Cheerios into a star ice cube tray. Advice number 1: Dont do a tot tray involving food your child loves. It took some persuading to get him to do this task because all he wanted to do was eat the Cheerios. I know schooling at this age is supposed to be very open and letting him do what he wants. So after convincing him to fill some of the tray, i let the vultures at it:
This tot tray idea lasted all of 2 min before more than half the Cheerios were eaten by my munchers. Because yes, we did this on the floor, within a 16 month olds reach. Which leads me to tip number 2:
Either keep the Tot Tray out of the younger siblings reach, or do the activity when shes occupied. My first attempt at Tot Trays wasnt quite what i expected, lol. But thats the joy of trying to homeschool two children 3 and under right? Did i give up? Nope. Connor wanted to pick another tray the next day. So i told him to wait until Bri napped. So we did and he picked this tray:
It was a round 8 inch metal pan and some Dr Suess magnets from the dollar section at Target. This time the activity went alot smoother. He peeled all the magnets off the sheet
and had fun putting them on the pan. He then took them off and put them on the other side of the pan. We worked on colors and counting with this activity. This was nice because it is still in our living room and both kids like playing with it.
Dont you love the big "cheeese!" faces?
Heres what else we did:
We finished this book
I highly recommend this sticker book! Its
very
colorful and cute and Connor loves it! Here are a couple pics took so you could get an idea. I got mine at Marshalls for $4.99.
We also built with blocks
and started practicing with his
Kumon cutting book
. He has never cut with scissors and i was so surprised by how well he did! And he loved it! He kept wanting to do more and we ended up doing 5 pages!
We also started pages in
another workbook
,
made golf ball paintings and prints in the kiddie pool,
and chalked. Here he is making a spaceship (hes very into Buzz Lightyear!)
Now lets play "Can you guess what these are supposed to be?".
Nope, not crosses and no theres not a letter somewhere under there. And no its not a handprint with just some tissue paper all over it. Well, actually thats exactly what it is! But it is supposed to be a summer-looking tree :) I painted their hands and forearms and pressed them onto paper and they were supposed to glue tissue paper all over the 'branches' (fingers) to make it look like a pretty blossomed summer tree. However Connor wanted to cover the entire tree in tissue paper and brianna was too busy playing with the tissue paper and eating it. Yes, she really did eat some.
Here Connor is making the tissue paper into little balls. He liked doing that. And here is Bri fascinated with the tissue paper and glue:
Of course, i absolutely love the way the 'trees' came out because they are all their own. So they are so precious!!
Here are the three crafts Connor made his second and last week of Half-Pints Camp at the YMCA.
A scratch-off seahorse.
A necklace out of straw pieces and ocean animal beads.
An ocean in a bottle with stars, seashells and ocean animal breads. And filled with water.
Check out these posts to see:
pics
of some things we did the past couple weeks and
this recipe for
Orange Juice Pancakes
we made- yum! Have a great week!