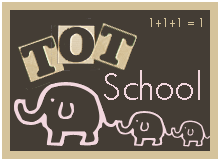 First let me start off by saying Brianna has reached 3 big milestones this week!
One, she had a birthday!! (you can check out that post here.)
Two, she started potty training! And she is doing better than we could've imagined!
(We spent the first 3 days with her dressed like this:)
And three, she now gets Tot School posts all to herself!! I have decided to start posting Connor's separately over at Preschool Corner :o)
So lets begin!
For stART we made green frosted cookies,
and shamrocks.
And in Sunday School she made this cute craft from Oriental Trading.
She enjoyed stamping this week.
And playdoh.
We didn't get much else done because we spent alot of time outside this week.
(notice the *ahem* wet spot on her pants)
Another milestone is that she now climbs the ladder on the swingset by herself!
Only a couple of times did she fall a from short distance.
Have a great week everyone!