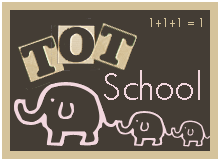 Noah's Ark:
We had a rainbow themed lunch. She was able to find all of the colors i named. Except yellow, because bananas are more of a white.
We made animal cracker arks for stART.
We all played with Connor's Noah's Ark toy.
Tot Trays/Misc:
She enjoys her new Barbie magna doodle so much! She plays with it on and off all day, everyday!
We went to our local children's museum and checked out the new Lego Castle exhibit!
Brianna colored shape worksheet from our 3,2,1, learn book and then found the smallest shape from each set.
She stamped with this cute set of stamps from the dollar section at Target.
She played with Connor's big blocks.
And we did a science experiment that i will be posting about next week.
Brianna's favorite book to read this past week was Bunny's Noisy Book, by Margaret Wise Brown. I love this adorable book!
Come check out more tot school posts over at 1+1+1=1!