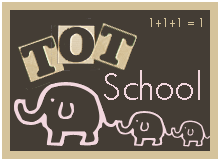 (Brianna is 25 months old)
We continued our Spring Theme this week!
Using bingo markers, Brianna dotted some spring pictures.
(source)
(source)
We made a bird feeder! I stapled and taped together 1 1/2 paper bowls to make the bird feeder. She decorated it with stickers and crayons and we hung it, with some wild birdseed, on our fence.
In Sunday School a couple of weeks ago, i made a "God made seeds" craft with the nursery kids. We put birdseed into finger paint and let them feel the seeds. Then we made handprints with the paint and some seeds got stuck in it, just as planned.
She also colored a spring picture.
Tot Trays/Misc:
She worked on an orange coloring sheet.
She was able to work on this lacing apple for the first time. She liked it alot.
For the first time she played Candyland! Mommy of course had to help her do everything. But i was happy she sat through it and wanted to move her person. And she recognized every color on the cards, which made me happy too :)
We visited the temporary dinosaur exhibit at our local museum and science center.
Go here to see more Tot School posts from other bloggers!